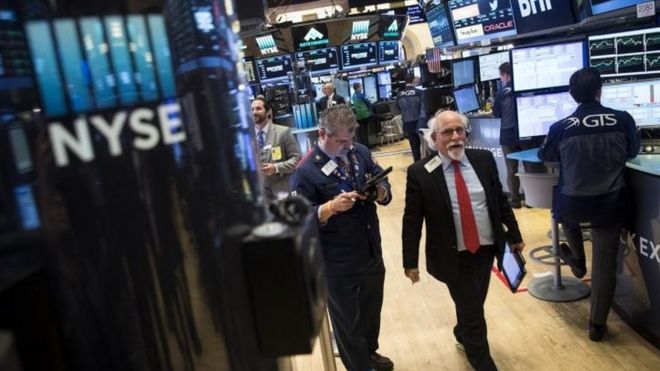 US stocks opened lower on Thursday, falling a day after the Dow Jones Industrial Average broke past 22,000 points for the first time ever.
The Dow retreated from the record in opening trade, falling 0.08% to 21,998.39.
The wider S&P 500 index dropped 0.24%% to 2,471.88, while the tech-focused Nasdaq dipped 0.06% to 6,358.62.
Markets are digesting quarterly earnings and waiting the publication of the latest US jobs report.
So far this month, many companies have exceeded analyst expectations, lifting US markets.
Electric carmaker Tesla, for example, saw shares jump by more than 5% on Thursday, after it said revenues were up and assured investors that production plans for its first mass-market car were on track.
But most sectors traded lower on Thursday and some investors appear to be bracing themselves for a correction.
Apple's shares, which climbed earlier this week after its earnings report, fell almost 1% in opening trade.
Shares of Avon Products also slid more than 9%, after the cosmetics company reported a 3% fall in quarterly revenue, a larger drop than expected. Avon also said chief executive Sheri McCoy would step down, responding to calls by activist investors.